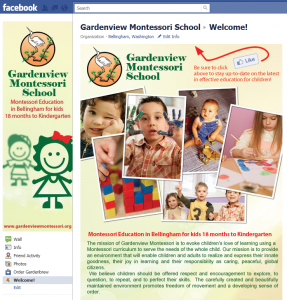 The "Gardenview Montessori School" Facebook Page is built around a custom designed fully graphical "welcome" page with a custom profile image.
The writer for page updates regularly interacts with other pages who focus on education. This has brought more attention for the school and opens up more opportunities for fund raising not just from the help of students and parents, but also from across the country.
One example of this is an ongoing coffee fund raiser. A local roaster has created a custom roast for Gardenview (called "Gardenbrew") and orders can be placed right from the Facebook Page.