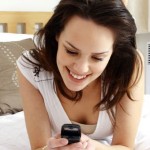 It's a fact. People spend more time with their mobile phones than they do with their computers.
People shut off their computers. Mobile phones are almost always on.
Text messages have a nearly 90% open rate. When was the last time you ignored a text?
And mobile usage continues to grow daily.
All this points to your business needing to be involved in the mobile revolution.
We help you in a couple of ways. First, we can set up your business to contact your customers when you have something ready for them or to confirm an appointment. This works perfectly for services such as dry cleaning and flower shops where you can simply text a message to let a customer know their order is ready for pick up.
For appointment confirmations such with primary care physicians, dentists, chiropractors and spas you can simply have your system send out a text reminder for the appointment rather than requiring tedious phone calls.
And once you have your customer's mobile number you can also send reminders about events or specials you are running with your business.
Click here for a free trial of our SMS system.
Since customers are on mobile, there's an excellent chance they will be viewing your site on a mobile device.
How does your site look there?
If it's hard to navigate your web page on a small screen, your customers may leave and never come back. Avoid that fate.